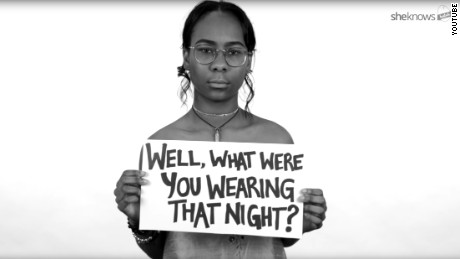 (CNN)In a striking new public service announcement trying to change the conversation about sexual assault, tween, teen and college students, girls and boys, women and men, look directly at the camera and don't say a word. Instead, they hold up posters with statements that speak volumes about the messages society has been sending for far too long.
"How much did you drink?" reads the sign one teenage girl is holding.
Other posters include statements and questions such as "Don't wear short skirts" and "Were you drunk?"
A teenage boy holds up a sign that reads, "She was 'asking for it.' "
That means being active bystanders and not being afraid to step in and speak up if you see something that does not seem quite right, she said. Kaplan points to the case of a Florida football player working as a bouncer this summer, who, along with a co-worker, stepped in to stop an alleged rape behind the Gainesville bar where they worked.
"Those small acts of bravery are not only the right thing to do, they're the cool thing to do,"she said. "We live in a culture, oftentimes, where people are just kind of like, 'Mind your own business; don't get involved,' and that shouldn't be the case."
In a way, everyone in the new video acted as bystanders, said Cece, the high school senior.
"The significance of us holding up those signs and saying, 'We see you,' just by looking into the camera, is our way of highlighting that it really is on all of us," she said. "That this is not just a problem for the person who has been raped or assaulted, this is universal. It's our way of taking some of that weight off of the victim and placing it on our own shoulders. The video says that we hear you, and we are here for you."
The hope now is that the video, which is being showcased across the digital platforms of SheKnows Media, the Ad Council and It's On Us, is watched and shared far and wide by tweens, teens and college students.
"It's also just really important to get … teens involved and talking about it at an early age," said Megan Sigesmund, vice president of campaign management and external affairs for the Ad Council.
For Kaplan, thoughts of her close friend and what she experienced her first year of college drive her to keep the conversation moving.
"For me, this is really justice for her, to a certain degree," she said. "Seeing how the movement has changed and how much more open we are and how we're really working together to change this has been very inspiring, and it is a little bit of justice for her. That's what keeps me going."
Read more: http://www.cnn.com/2016/09/22/health/sexual-assault-changing-conversation-before-college/index.html